Last Updated on 20 June 2019
Mobile Broadband Plans & Devices (2018)
---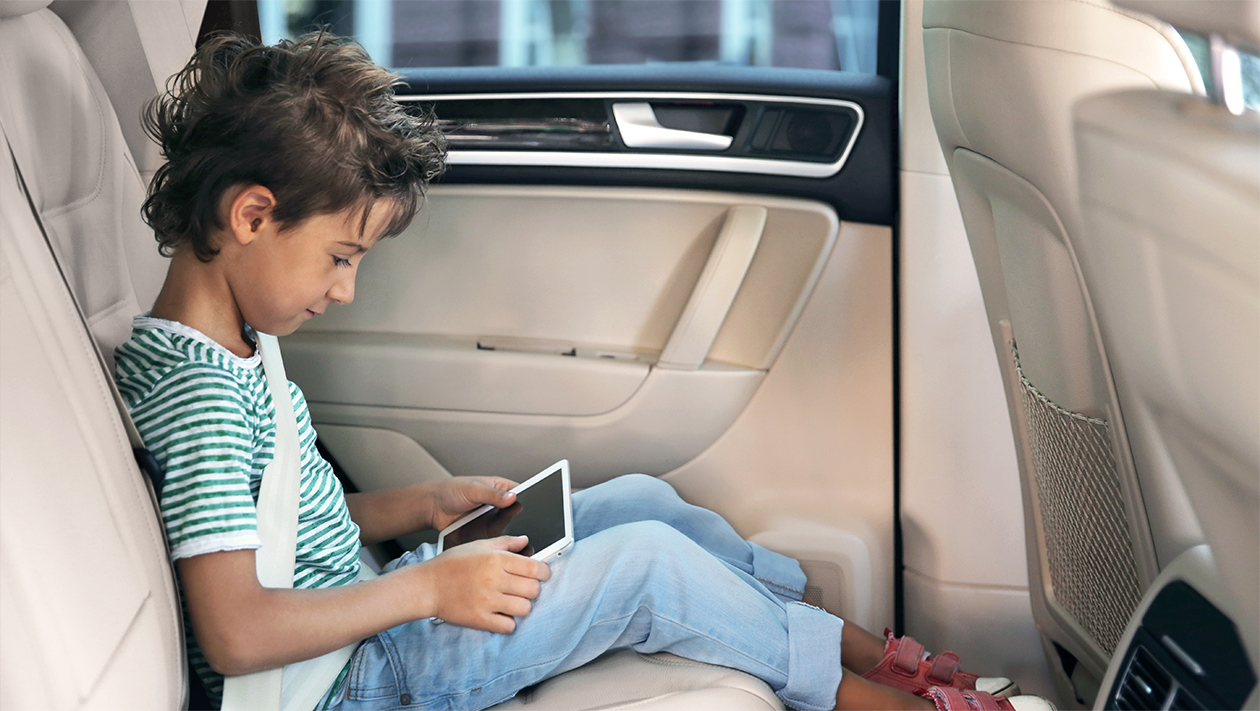 Staying connected on the go is nearly a necessity for Aussies today. Whether you're working from the road or want to stream a movie for your kids on a long car ride, mobile broadband plans can bring your connection along with you.
In this guide, we'll highlight some of the well-performing mobile broadband plans we've reviewed, and list the compatible devices for each one.
Key Points
Mobile broadband works the same way as your 3G and 4G phone connection.
There are several different mobile broadband plans, including prepaid mobile broadband.
Most providers also offer mobile broadband devices that will connect to the internet and grant you access to mobile WiFi.
How Does Mobile Broadband Work?
Mobile broadband devices connect to the same networks as your phones do. Instead of using these lines for calls and texts, though, mobile broadband connections use them for data and internet access.
Devices connected to mobile broadband lines will have a SIM card specific to your plan. You can almost always switch this SIM card with another device, allowing you to decide which compatible mobile broadband device you want to use.
Some of the common 3G and 4G mobile devices include Wi-Fi hotspots and USB modems. You can either purchase these separately from your plan or select a provider that includes a mobile broadband device.
Vodafone Mobile Broadband Plans
Vodafone is a popular mobile phone and internet provider that offers several mobile broadband plans as well. You can choose to purchase a mobile broadband device with your broadband plan or select a SIM Only plan if you already have one.
All of the Vodafone plans have data limits. Exceeding the data limit will automatically add more data for $10/GB.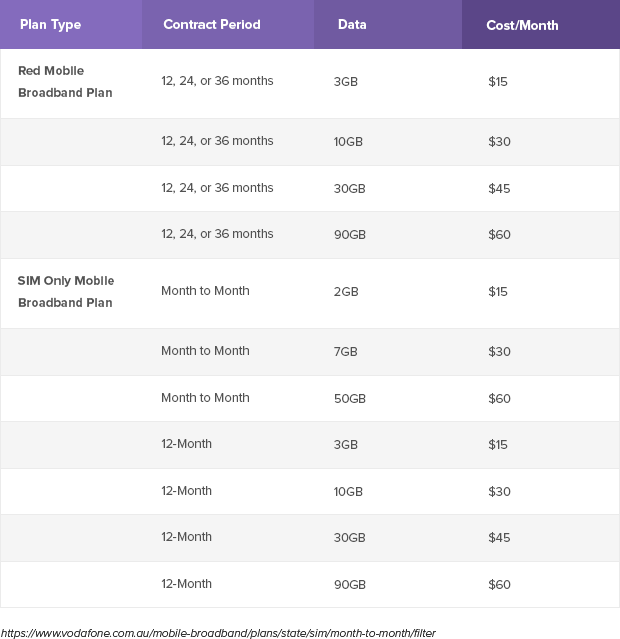 Vodafone Prepaid Mobile
You can also choose to go down the prepaid mobile route with Vodafone instead of committing to a plan. These offers include SIM starter packs and a modem starter pack. You can also recharge your data once you run out. The pricing breakdown is as follows: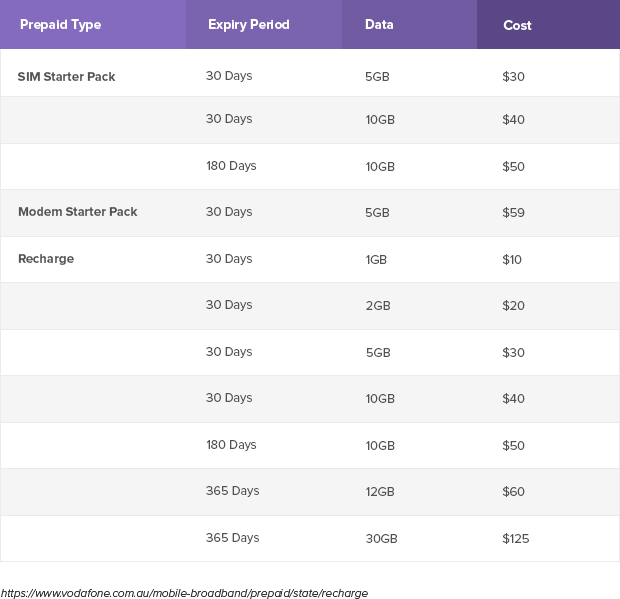 Modem Selections
Vodafone offers two modem selections with their plans: Vodafone Pocket WiFi 4G and Huawei WiFi Gateway 4G.
The former will add $2 to your monthly plan, and the latter will add $5.
The Modem Starter Pack prepaid mobile plan comes with the Vodafone Pocket WiFi 4G only.
Exetel Mobile Broadband Plans
Exetel provides a range of mobile broadband plans to their customers, connecting them to the Optus network.
You can select a no lock-in contract or a 12-month contract with separate data constraints. There are no prepaid mobile broadband plans from Exetel at this time.
Those who need a modem can purchase a USB Huawei E8372 with any mobile broadband plan. This will cost you $69 upfront for no lock-in plans and $5 a month for 12-month plans. Exetel charges $10/GB for going over your data limit.
The Exetel mobile broadband pricing is as follows: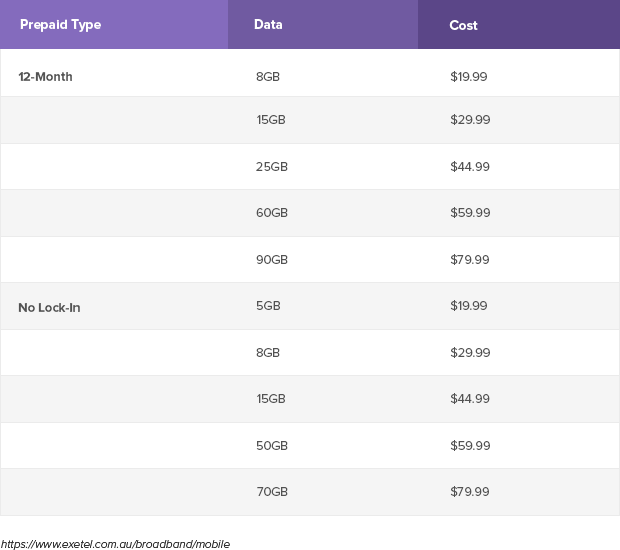 Telstra Mobile Broadband Plans
Telstra is one of the larger broadband providers in the country, and they have a handful of mobile and prepaid mobile broadband plans you can select.
There are also several compatible mobile broadband device options from Telstra as well.
The 24-month mobile broadband plans come in three data options: Small, Medium, and Large. All extra data you use will incur the standard $10/GB charge.

Telstra Prepaid Mobile Broadband
There are more prepaid offers from Telstra than there are 24-month contract options. The devices are a bit more limited though, as you'll only be able to connect the Telstra 4G WiFi Pro and Telstra 4GX USB WiFi Plus with your purchase
Those who recharge their data before the expiration date will be able to roll over the unused data from the previous period. This is restricted with certain prepaid purchases.
The breakdown of Telstra prepaid mobile is as follows: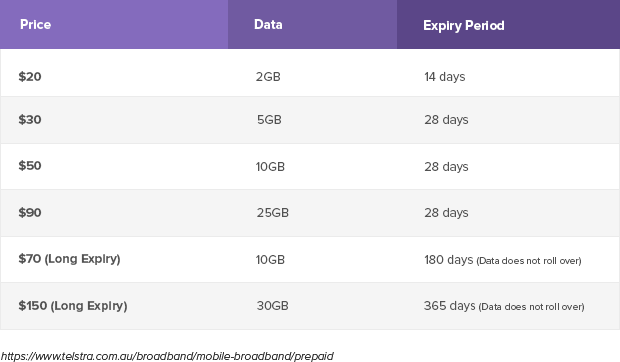 Telstra Mobile Broadband Devices
The first, and most powerful, mobile broadband device from Telstra is the Netgear Nighthawk M1. This is advertised as Australia's fastest mobile hotspot and allows you to connect up to 20 WiFi-enabled devices. The Netgear Nighthawk M1 costs $6 a month with any Telstra 24-month plan.
You will receive a similar connection with the Telstra 4GX modem for the same $6 a month as the Netgear Nighthawk M1. Both of these devices are only available with 24-month contracts.
The Telstra 4GX USB is the simplest mobile broadband device from Telstra, and won't cost you anything extra with the purchase of a plan. Going prepaid will cost you $39 extra with this device. You can connect up to 5 WiFi devices with this modem.
The next step up from the Telstra 4GX is the 4GX WiFi Pro. You can connect up to ten devices with this modem. Like the 4GX USB, it doesn't cost you any extra money with a 24-month plan. Prepaid plans with the WiFi Pro will add $99 to your purchase.
Other Mobile Broadband Providers
We selected some of the current most well-performing mobile broadband plans and devices, but there are several other options to consider as well. Some of the other popular mobile broadband providers include:
Dodo
Amaysim
Optus
Vaya
Kogan
Yomojo
Moose Mobile
Every provider has their own plans, devices, and additional features to consider. Use our broadband comparison tool to find the one that best fits your mobile broadband needs.