Last Updated on 20 June 2019
The NBN: Your Guide to Rollout, Installation, and Top Providers
---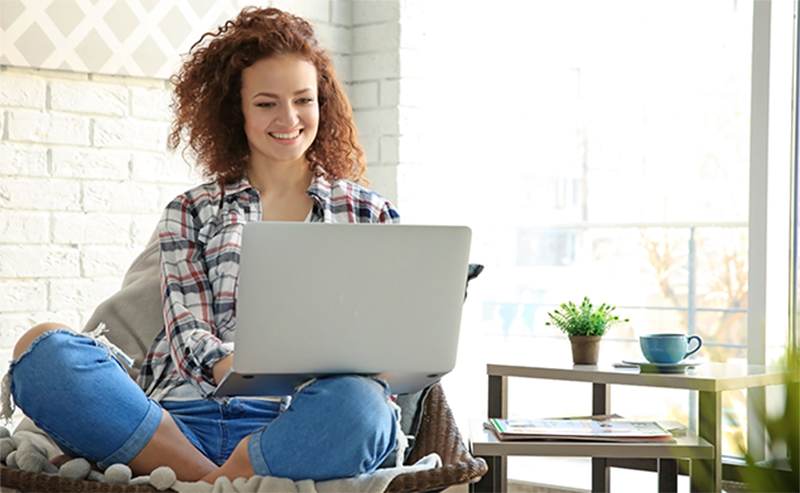 The NBN is coming your way, Australia; in fact, you might already have it in your household or business. The NBN rollout is expected to be completed in the next couple of years, which means that the majority of premises in Australia should be on a faster, more reliable internet network.
In this guide, we'll give you details on the different types of NBN connections and speed, as well as give you a brief overview on the top NBN providers.
Key Points
The NBN rollout is over halfway done, with completion expected by June 2021.
The NBN uses a mix of existing technology, like copper lines, and new technology, like fibre optic cables, to deliver high speed fixed-line internet to Australian premises.
To access the NBN, you must switch to an NBN plan offered by a phone and internet provider. Plans and pricing are based on speed, data allowance, and your location.
What is the NBN?
The NBN is Australia's government-owned wholesale National Broadband Network. Because it is a wholesale network, you must purchase an NBN plan from a phone and internet provider before you can access it at your premises.
The NBN was first floated with the Labour government's election in 2007. The intention was to provide high-speed ground-based fibre internet connections to 93% of homes and businesses by the end of 2020. Those who could not access the NBN would rely on fixed wireless and satellite internet access.
However, over the years the NBN has changed from the initial vision. With the election of the Coalition government in 2013, plans changed; the NBN would now be based on a mix of technology, based on location.
The NBN rollout has faced some challenges in terms of slow speeds and interrupted connections, but has now been delivered to over half of the target households. Early plans were to connect 13 million premises by 2020; that number is now closer to 11.2 million by 2021.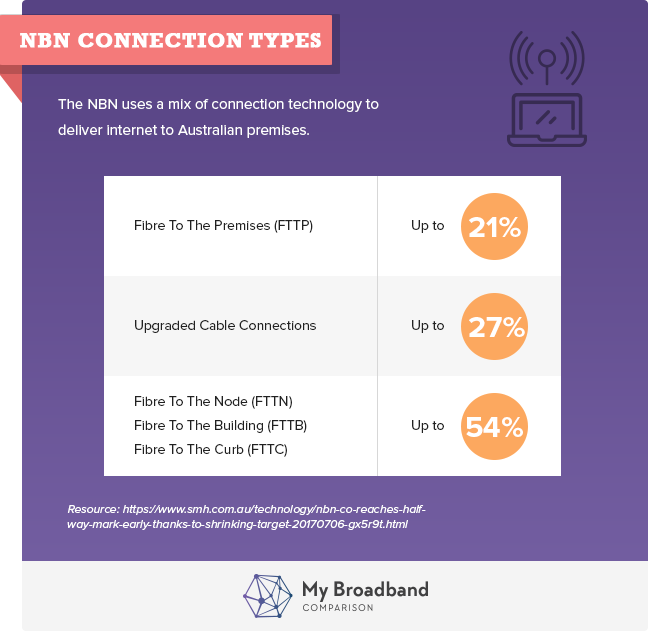 Who Can Get the NBN?
Anyone who lives in the NBN rollout area will be able to get the NBN. To find out if your home is ready to access the NBN network, you can visit the NBN webpage and enter your address.
Approximately half of the homes on the NBN network have already been connected, while for the other half connections are still underway. All of the homes on the NBN network should be connected by 2021.
Those who are not in the NBN network should receive broadband coverage instead.
NBN Rollout
The NBN rollout began in 2011 across five areas, with Armidale, NSW being the first area for installation. These early stage rollouts all included Fibre To The Premises (FTTP) connections. After the change of government in 2013, the NBN rollout was changed to a Multi-Technology Mix (MTM).
The MTM relies on both existing infrastructure and new technology to deliver the NBN. It includes the following connection methods:
Fibre To The Premises (FTTP): fibre from the NBN node to the premises; the fastest option but usually the most expensive to install.
Fibre to the Node (FTTN): fibre cables connect to the local exchange, then copper lines run from the node to individual premises.
Fibre to the Building (FTTB): Fibre runs to a fixed point in a building with multiple occupants and existing technology used to deliver access to individual dwellings.
Fibre to the Curb (FTTC): Fibre runs to a telecom pit right outside the premises, then a copper line runs over a short distance to the premises.
Fixed Wireless: Data is transmitted using radio signals between a transmission tower and an outdoor antenna.
Sky Muster Satellite: Satellite internet access for those in regional and remote areas.
The type of connection you receive depends on your location; you can verify your connection type using the 'Check Your Address' feature on the NBN website.
Although the NBN was originally slated to be completely rolled out by 2020, new figures suggest completion will occur by June 2021.
NBN Installation
The NBN installation process depends on the type of connection you have. A service provider will make an appointment with you for the installation; in most cases you will need new equipment installed inside and outside of your home.
Installation of NBN connection boxes and equipment does not cost anything, though check with the provider to see if there are any additional fees.
Here's how installation works.
FTTP: NBN access network device must be installed in your home by an approved NBN installer or a phone and internet provider. Providers may also install an optional battery backup to supply power in the event of a power outage.
FTTB: Fibre optic line runs from the NBN node to the fibre node (usually a cabinet) in the communications hub of the building. From there it runs to individual rooms. You should not need any additional equipment besides a modem.
FTTC: NBN connection device needed inside your premises; it may be possible to self-install the device.
FTTN: Existing copper line runs from the NBN node, usually a cabinet in the street, and otherwise uses existing technologies.
Fixed Wireless: An approved NBN installer will need to fit an NBN outdoor antenna and connection box.
Sky Muster: An approved NBN installer will install a roof satellite dish on your premises and a NBN modem at the cable entry point.
How Can I Get the NBN?
Once you are hooked up to the NBN network, you will need to sign up with a NBN plan through a NBN provider. You must arrange to switch to a NBN plan, as most current services will be disconnected after 18 months.
These services include:
Most Telstra home and landline phone services
Home and landline phone services from providers using Telstra's copper lines
All ADSL, ADSL2, and ADSL2+ internet services
Optus cable internet and phone services
Telstra BigPond cable internet
There are some exceptions to the above; some existing phone lines and Foxtel services should not be switched off. Check with your current provider for details.
When you contact your provider to set up a plan, you can make arrangements at that time for any additional installation that may be required.
NBN Plans and Speeds
NBN plans are offered through providers in your area, so prices may vary. Plans are generally structured according to the speed and data allowance you choose. Top NBN speeds are not available in all areas, and may depend on the type of connection you have.
The faster the connection, the more expensive the plan is likely to be.
NBN currently offers the following speeds for its fixed-line services:
NBN Speeds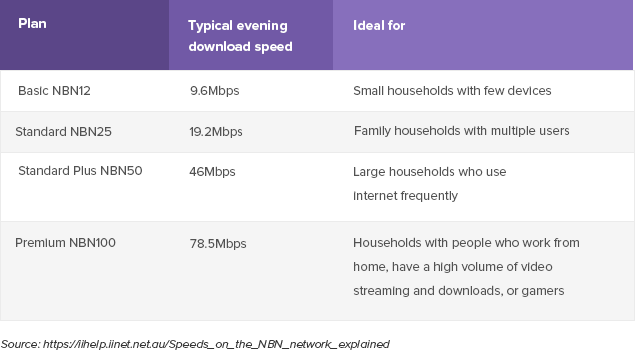 Top Providers for the NBN
There are approximately 175 providers listed on the NBN website, though not all of them are available in all areas. Each provider can set its own price for different speed plans, and may offer deals for bundling internet with other services.
Some providers also offer introductory promotional prices for new customers, and low-cost or free add-ons such as Netflix or Foxtel. However, more features doesn't always mean a better deal, especially if you're not likely to use those features.
The smart way to find a provider is by comparing prices, speed, and features across the board. To save you time and hassle, we've put together a list of the top NBN providers in Australia, so you can see what's on offer.
Top NBN Providers
Prices based on NSW postcode 2000 for NBN Tier 50 with unlimited data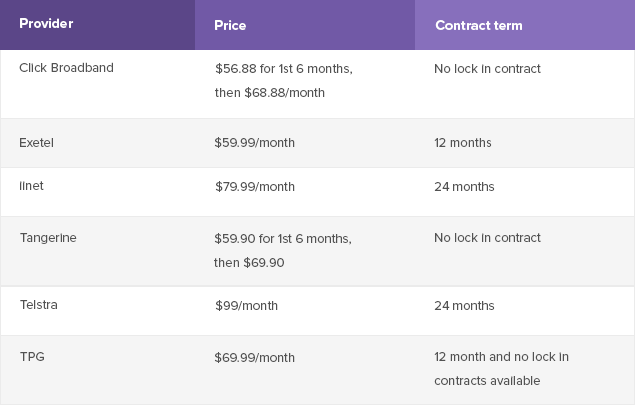 Fill in the form below to compare NBN deals across a wider range of providers in your area. It'll give you a side-by-side comparison in minutes, so you can make a decision about which NBN plan is a good fit for your household and your budget.